Download and install Shark Bridge Game
iPad and iPhone
iPad (5th gen) / iPhone (5s) or newer
Minimum iOS 11
Install
Apple Mac Computers
Apple Macs build late 2009 or newer
Minimum macOS 10.13.6 ( High Sierra )
Install
Our Products for Teachers and Players
Teacher's Console
Winner of ABTA's 2020 technology of the year award.
The tool that changed the way we learn and teach the Game of Bridge. Contact us to get started.
Bridge Game
Windows, macOS and iOS
Play bridge with friends!
Improve your game against competent robots.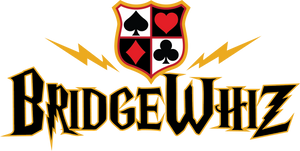 We are the technology partner of the largest youth bridge program in North America
The ACBL Educational Foundation announced the launch of BridgeWhiz, an exciting, new, digital initiative to teach students in grades 4 through 12 the spellbinding excitement of contract bridge. It's partners are Shark Bridge, Bridge for Youth, ACBL and ABTA. Learn more about BridgeWhiz
What teacher's say about Shark bridge Teacher's Console
My students love lessons in the Shark classroom so much, they are pleading with me to continue online even when face-to-face bridge play returns. Many have told me, "I finally understand!" The versatility of the SBTC, along with the chance for each student to always have the best hand for practice, is remarkable. There's nothing else out there that meets bridge teaching needs like this program.

KIm Gilman of Bridge with Kim
Game changer! Shark Bridge brings a new energy into online learning for the teacher and the student.

Donna Compton of Play Better Bridge
Shark Bridge changes the whole dynamics of teaching bridge to students and adults alike. I call it a disruptive technology. I will never go back to teaching bridge with cards again

Albert Bender of Bright for Youth
This thing is amazing. You can activate robots at all tables and set the level of the bots to match your students. Changing a hand to demonstrate how you might handle a slightly different layout is easy, on the fly, and be applied to all student tables with one click. There's so much more!

Lynn Chapin of the Jersey Bridge Club
I think Shark bridge is an amazing tool for bridge teachers. When minor issues seldom arise, the owners (Milen and Planem) are quick to help. Allowing students to play the hands from past lessons, at their convenience outside of the lesson time slot is a brilliant feature. I look forward to future innovations from Shark Bridge.

Daniel Lavee
Teaching Bridge online has never been EASIER!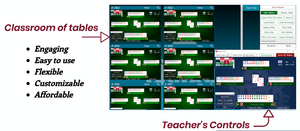 What can Shark Bridge Teacher's Console do?
Imagine a teaching tool that...
allows you to create and save hands

allows you to generate hands on the fly using query options for each position

allows you to create partial hands to demonstrate card combinations and playing techniques

allows you to keep teaching notes on the hands you create and save

allows you to upload BOTH .LIN and .PBN files

allows you to export your hand files so that you can store them, use them with Dealer 4, etc.

allows you to communicate with your students LIVE! with both video and voice options

integrates with Zoom Meeting or Google Meet so you make a presentation of your lesson before heading to the tables

works well with phone conferencing also

takes your students to their table with one click URL, without pre-registration or passwords

is excellent for teaching 1 student or up to 500 students at a time

can place your students at any number of different tables to do practice exercises simultaneously

allows you to place 1, 2 or even 4 student(s) at a table to engage in specific playing and bidding exercises

allows you to show or hide any number of hands and to quickly change students' views

allows you to control and correct the bidding from a teacher's console

allows students to undo to correct recognized mistakes and to try again

allows students to replay deals to reapply newly learned skills

allows you to replay and demonstrate the bidding sequence or play of the hand from a teacher's console

let's you have up to 500 students at a time at 100, 250 or 500 tables   

has robot players so you always have full tables playing and participating

allows you to place students in kibitzing positions to watch other tables

is structured to work well for every level of student, from complete novice, to expert

can eliminate the bidding box so that beginners can start with goal-oriented play to learn mechanics and technique, 

before

learning bidding

allows you to send homework hands to students so they can practice in between classes

can be used in face-to-face lessons as a demonstration tool in a real classrooms

has many more flexible features and is evolving and improving every day
Order Shark Bridge Credits for your classes